Lisa Nooren has been surrounded by horses her entire life, so it comes as no surprise that the 25-year-old chose a career as a professional rider. Already in the different youth categories, Nooren had lots of success – bringing home no less than six medals at the European Championships. Additionally, Nooren has jumped to Grand Prix victories at venues such as CSI3* Offenburg, CSI3* Arezzo, CSIO3* Donaueschingen and CSI5* La Coruña. With a busy competition schedule and several long travels, the young Dutch talent believes that for her equine partners it is better to prevent issues than trying to solve problems – especially when it comes to their sensitive stomachs.
Nooren has chosen Equine 74 Gastric and Equine 74 CalmRelax as two of the very few supplements that are fed to her competition horses. "I found out about the Equine 74 products through a family friend, Jytte Winkler," Nooren explains. "She told me about this amazing product that she thought I should try on my horses. We try to keep everything with the horses as simple and natural as possible, and don't feed them many supplements. However, Jytte mentioned Equine 74 so many times that we agreed to give it a shot. Also, I had one horse with particular issues with her stomach."
Jytte made contact with Christian Dietz - the owner of the Equine 74 brand - and we arranged to meet at our stable. Christian's explanation of the idea behind Equine 74 - to get the excess stomach acid, which is almost in all horses, under control with the daily addition of Equine 74 Gastric - is simple and clever. And it works!
"My main goal is to focus on prevention and keeping my horses' stomachs as healthy as possible"
Feed quality has a major influence on horse health
"One of my horses had quite a bad diarrhoea for a while," Nooren continues. "I believe it was due to our recent move to a new stable, and the fact that we had to change the supplier for our hay. At our old place, we used to make our own hay, so we knew exactly where it was coming from and it was always relatively good. When we moved, the hay supplier changed and this one horse in particular was struggling with the varying quality of hay. Therefore, we thought it was worth it to try Equine 74 Gastric on her. When we started feeding her Equine 74 Gastric, there was a huge difference in her within two weeks. After seeing how much she improved, we started feeding most of our horses Equine 74 Gastric and I think it makes quite a nice difference."
You want to learn more about the effect of Equine 74 Gastric, watch here.
Stress influences the gastric of the horse
"I feed Equine 74 Gastric to most of my horses and for the horses that are a bit stressed when traveling – those who get nervous on the truck – we give the Equine 74 CalmRelax paste. Before, my horses that went on long trips would be given omeprazole before they travelled. Now, we give them the Equine 74 Calmrelax paste. My best mare is quite difficult to travel and I really believe that for her, the Equine 74 Calmrelax paste has made a big difference on the truck: She is much more relaxed. Instead of giving her omeprazole, I find Equine 74 Calmrelax a better option."
"We give the horses Calmrelax paste only when they are traveling, about 20-30 minutes before they get on the truck, and the Equine 74 Gastric we give twice every day with their daily feed. I have found that some horses can be a bit picky about eating Equine 74 Gastric in the beginning, but once they get used to it, they eat it really well."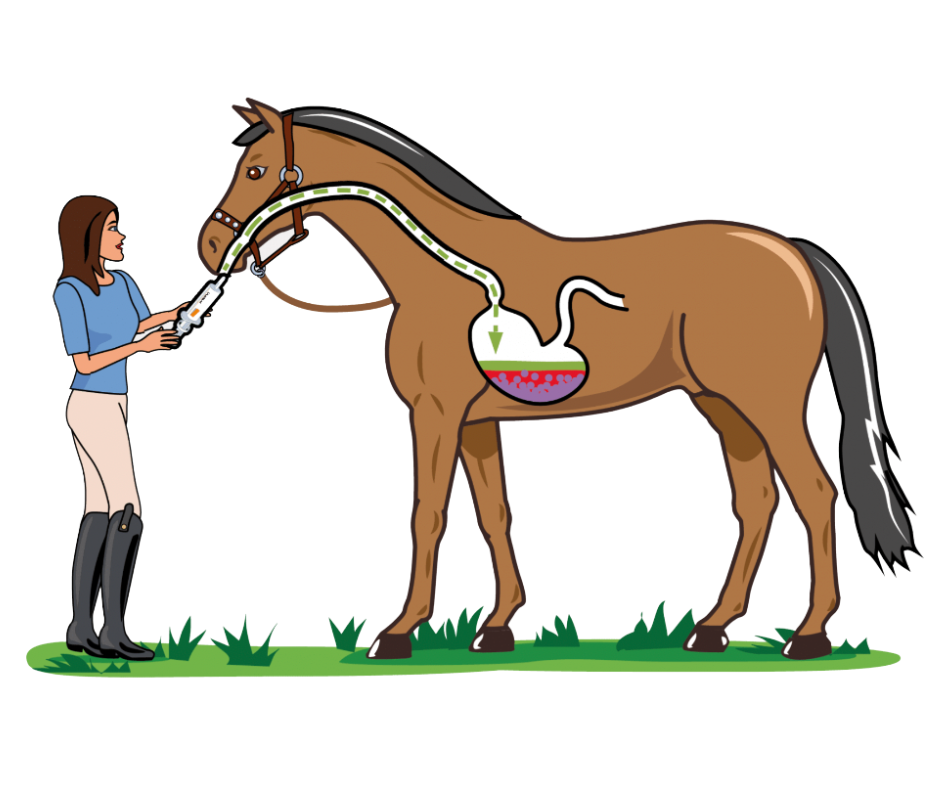 About sensitive stomachs and how you could prevent them
"Equine 74 Gastric and Calmrelax are not a cure for ulcers, but a tool in preventing them," Nooren explains. "My main goal is to focus on prevention and keeping my horses' stomachs as healthy as possible. I would recommend the Calmrelax to any nervous horses, while I believe most horses can benefit from Equine 74 Gastric. For us it works well, especially when you don't have all the control over where the hay comes from. Sometimes you have a bale that is better and sometimes not, and in situations like this it is great to give this supplement to the horses that have a sensitive stomach."
"There are plenty of supplements you can feed to your horses and some of them might at times contradict each other. We have focused on cutting down the supplements to the bare minimum that is needed, and only use quality products that work. Also the feed that we use has a low percentage of sugar; we simply try to keep it as natural for the horses as we possibly can."
More on the topic
Prevention is the keyword when it comes to stomach ulcers in horses. Not only are stomach ulcers costly and time-consuming for you, but your horse also suffers from pain when it has stomach ulcers. Learn here how to prevent them effectively.