Equine 74 Calmrelax builds on Equine 74's success product Equine 74 Gastric – a 100 % natural red algae-based supplement, that absorbs excess gastric acid to create a natural and well-balanced horse stomach. Equine 74 Gastric, available as pellets, granulate or powder, has since its launch become a must-have for many riders, who want to prevent gastric ulcers in their horses.
You may have a lot of questions about Equine 74 Calmrelax. Click at the following chapter and get your answers!
What was Equine 74 CALMRELAX developed for?
"Many riders using Equine 74 Gastric on their horses approached us and asked if we could not develop a quick-working paste for horses that are prone to stress," Christian Dietz – CEO of Dietz & Consorten GmbH, owner of the worldwide distribution rights for the Equine 74 supplement series – explains.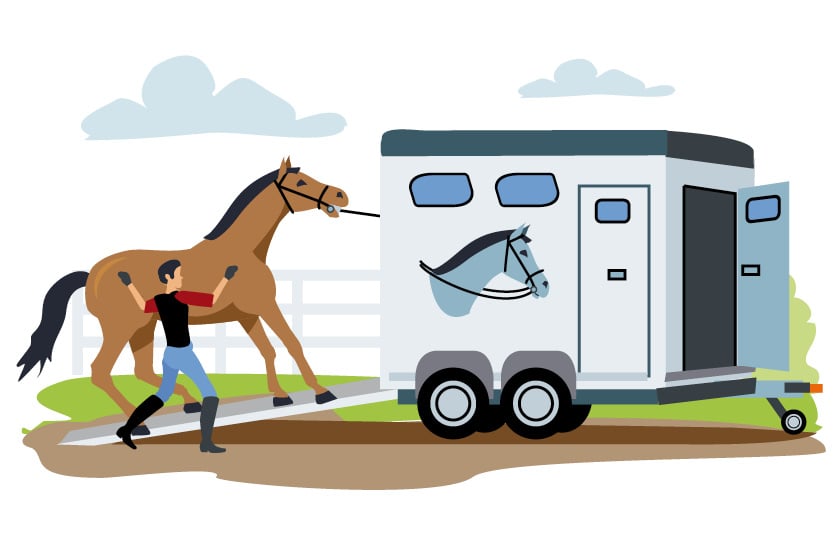 Dietz, who has studied agricultural sciences with intensive work in animal breeding and husbandry, took the challenge. The result is Equine 74 Calmrelax.
"We did not want to become the tenth or twentieth supplier of a tranquilizer paste," Dietz continues. "We wanted to create a solution that would enable the horse and rider to somehow cushion the stress-related overproduction of stomach acid. This is especially important in situations such as those that occur with young horses, for example at unknown training grounds, during transport or during shows. So somehow an immediate solution!"
"Our attitude is to look for the causes and work out a solution that can possibly influence the direct effects. So, if I know that my horse reacts – or will react – hectically and stressed to certain unknown situations, I can do something in advance."
Who is 74 CALMRELAX suitable for?
"Next to stress relief, Equine 74 Calmrelax is particularly suitable for horses with a sensitive stomach or irritated mucous membrane as well as for horses that are sensitive to new, unfamiliar or stressful situations," Dietz tells. "Such situations can be anything from new situations in training, competitions, truck or trailer travels – especially for young horses, as well as changes in the herd or the weaning of foals."
"For horses, stressful situations increase production of aggressive gastric acid that can reach the sensitive lining in the upper, glandless part of the stomach. This causes stomach irritation and pain, which again can create additional stress," Dietz explains.
The Equine 74 Calmrelax paste consists of a unique combination of Equine 74 Gastric and the brown algae Ascophyllum nodosum – which grows off the coast of Scotland. "Each syringe contains about 3.80 gr. of magnesium," Dietz tells. "Magnesium is proven to calm the nerves* and is therefore ideal to help relax horses in stressful situations. Due to the paste's rapid decomposition process and an extremely high bioavailability of 98 %, the magnesium is very quick-acting."
*Magnesium aspartate supplementation and reaction speed response in horses, JEVS Volume 35, Issue 5, May 2015, pp. 401-402 Charles Sturt University, Wagga Wagga, NSW, Australia
Waltham Centre for Pet Nutrition, Leicestershire, United Kingdom
Click here for the composition.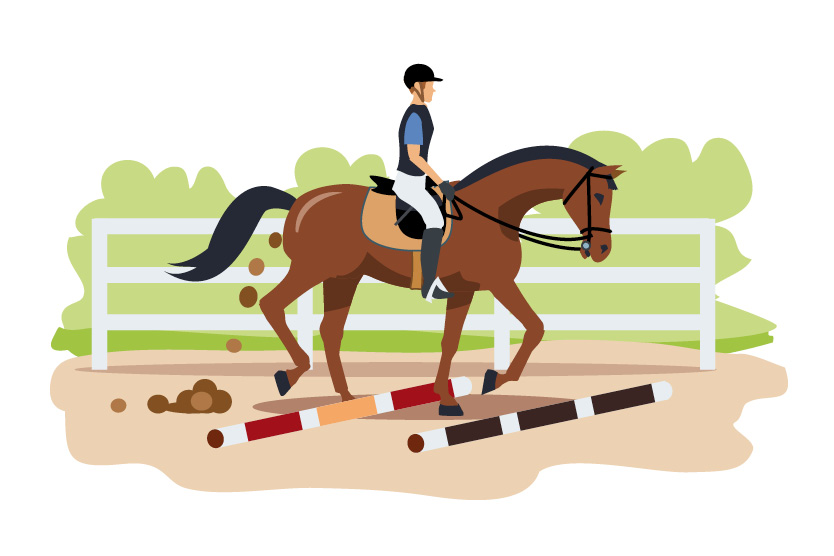 How does Equine 74 CALMRELAX work?
"We have developed Equine 74 Calmrelax to blend with the stomach acid to form a gel-like substance, creating a protective barrier that covers the stomach contents like a film – preventing the acid from reaching these sensitive areas. This protective film then dissolves and is excreted directly from the intestine without being absorbed into the blood."
How is Equine 74 CALMRELAX administered?
"Equine 74 Calmrelax comes ready to administer through a handy syringe," Dietz tells. "The paste is very tasty with added stevia and vanilla, which the horses enjoyed without exception. Depending on the outside temperature, the paste will be a little thicker or thinner and is easy to handle."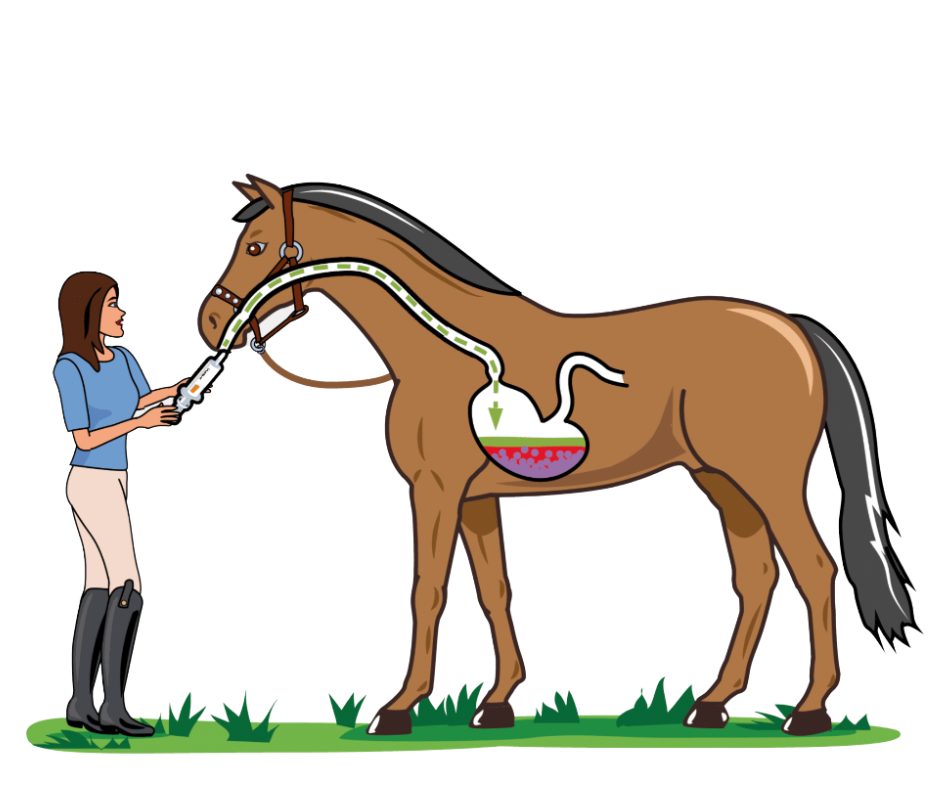 "For horses that are generally nervous and have sensitive stomachs, we recommend giving the paste directly into the mouth about 5-10 minutes before any situation that particularly will increase stomach acid production," Dietz says. "For adult horses we recommend a 30-gr dose and for small horses, ponies and foals 15-gr doses. Positive effects will be noticeable within a few minutes and last for as long as the paste is present in the stomach."
Is Equine 74 CALMRELAX doping-free?

"Equine 74 Calmrelax has been tested in the FEI's official anti-doping laboratory in Germany – and can be administered to any horse, whether a sport horse, leisure horse, foal or small pony," Dietz tells.
What does Equine 74 CALMRELAX cost?

One package contains three syringes. One syringe contains at least 95ml paste, i.e. about 285 ml of total product – we recommend 30-ml doses.

Starter Unit 3 syringes € 49.90* € 16.63 per syringe
Best Seller 4 x 3 syringes € 184,90* € 15,40 per syringe
Advanced 7 x 3 syringes € 314,90* € 14,97 per syringe
*plus shipping
What are the experiences of international riders with Equine 74 CALMRELAX?
Showjumper Jason Smith says: "I also like that both Equine 74 Gastric and Calmrelax are natural products that you can give the horses without worrying about any negative side-effects. Whereas Gastric is great for maintaining the overall well-being of the more sensitive horses, I see Calmrelax as a product that gives them that extra help to relax in situations where they need it the most." Read the interview here.
Lisa Nooren about Equine 74 Calmrelax: "I feed Equine 74 Gastric to most of my horses and for the horses that are a bit stressed when traveling – those who get nervous on the truck – we give the Equine 74 Calmrelax paste. Before, my horses that went on long trips would be given omeprazole before they travelled. Now, we give them the Equine 74 Calmrelax paste. My best mare is quite difficult to travel and I really believe that for her, the Equine 74 Calmrelax paste has made a big difference on the truck: She is much more relaxed. Instead of giving her omeprazole, I find Equine 74 Calmrelax a better option." Read the interview here.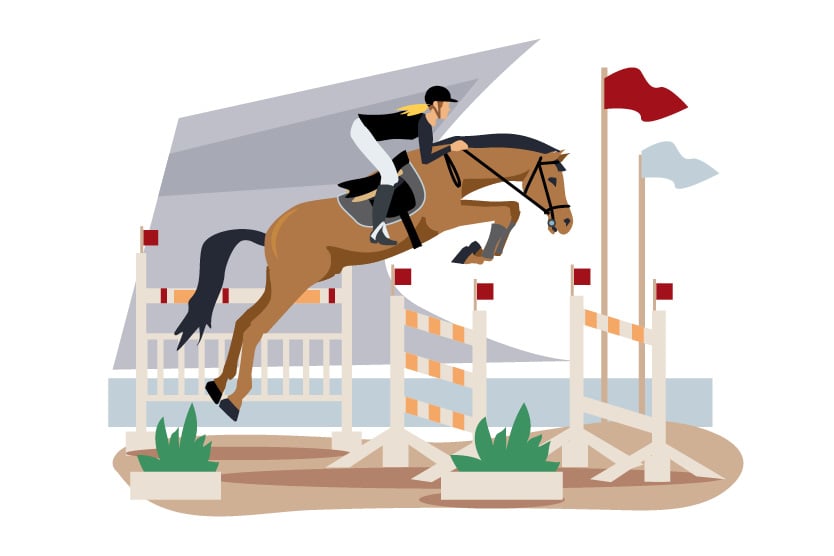 "Another product I like is the Equine 74 Calmrelax," Suzanne von Mierlow adds. "This is a paste that you give directly in the mouth, and I use it when I show the horses and for training days. I think it is a super product, and I am extremely happy with how my horses react to it. It is an extra help for the sensitive stomachs." Read the interview here.
Nations Cup rider Alexander Schill says: "I have administered Equine 74 Calmrelax Paste right before a test, which is when the stress is at its highest and I want my horse to stay focused. And the horses notice it too: here's something special, something important. You notice a difference right away." Read the interview here.
More on the topic
Prevention is the keyword when it comes to stomach ulcers in horses. Not only are stomach ulcers costly and time-consuming for you, but your horse also suffers from pain when it has stomach ulcers. Here you can learn how to prevent them effectively.