Egypt's Nayel Nassar is a young, but very knowledgeable, rider and at the age of only 22 he already attended his first FEI World Cup Final. Now, at 28 -years-old, he is one of Egypt's leading showjumpers sitting 32nd on the world rankings and earlier this year he helped his country with an historic Olympic qualification.
Back in 2017, Nassar began using Equine 74 Gastric on several of his sport horses. After eight months of using the product, he said: "I am a big fan! I am lucky to have had the chance to try Equine 74 Gastric on my horses."
Nassar learned about Equine 74 Gastric through the testimonials of his fellow riders. "I read some of the testimonials on World of Showjumping, and I totally believed in the product. I think it is a good sign if not just representatives of the brand, but also top riders and trainers who actually use the product say that the product works."
Nayel decided to try Equine 74 Gastric on a couple of his horses that he felt could benefit from it. "Currently I have all my mares on it, because they can sometimes have a little more stress at shows and have a little temperament. I also tried Equine 74 Gastric on some other horses I thought could suffer from stress."
On one mare in particular, the difference was huge: "When I got her, she was skinny and had such a bad coat. After putting her on Equine 74 Gastric for six weeks, she looked so different that people would not even recognize her anymore at the shows."
And that is not the only major difference Equine 74 Gastric has made on Nayel's horses. "I also have one younger horse that I feed Equine 74 Gastric to. He can get really stressed, and always had some kinds of stomach problems. Hence, he had trouble to put on weight and muscle – but since I started to use Equine 74 Gastric the improvement is incredible. It has such a big effect on him, and he is a much happier horse now."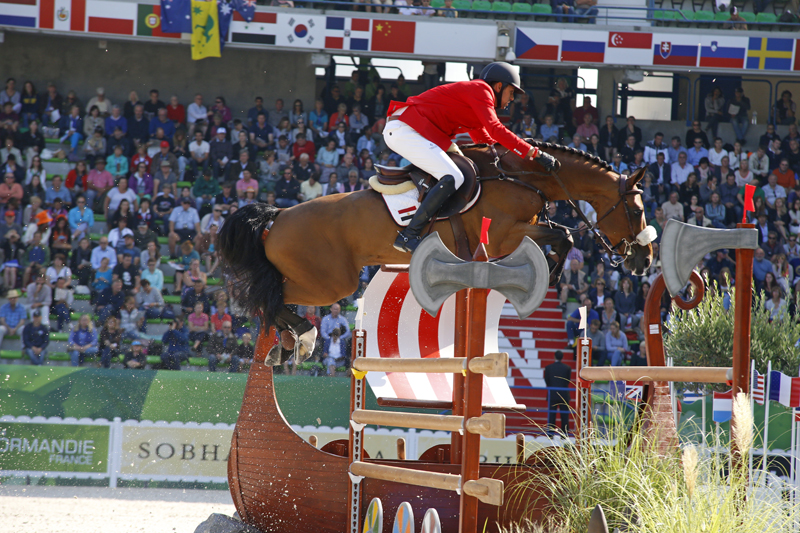 Nassar emphasises how easy it is to feed Equine 74 Gastric. "I really like the pellets, and how this works. I just give it to them in the feed and the horses are always happy to eat it."
Equine 74 Gastric also helps Nayel Nassar's horses to get the best out of their food, and in such a way benefit better from their training. "The horses digest their food better, and get all the nutrition out of it. Besides, my horses start to travel better and are more relaxed. In return, the work I do with my horses now is much better. It still takes a couple of weeks before you see the difference, but generally there is always an improvement with Equine 74 Gastric."
Want to know more?
On our topic page you will find a lot more information and links on the topic of gastric ulcers in horses. The possibilities for the prevention of gastric ulcers in horses are also described here.
Stomach ulcers in horses - Presentation of the most important facts and information about symptoms, causes and prevention of stomach ulcers in horses.