For Belgian FEI rider Julie Dossin
Equine 74 Gastric
has given her peace of mind that her horses have healthy stomachs and are enjoying life while in full training.
Equine 74 Gastric
is now part of her daily feeding routine for all her horses for long term ulcer management.
Dressage rider Julie Dossin and her show jumping husband Nicholas Brand run the professional livery yard Upper East Side Stables in Wezembeek-Oppem, Belgium. Aboard the Dutch warmblood mare First Lady, Dossin competed at the 2015 and 2016 World Young Horse Championships in Verden and Ermelo and has been focusing on taking her to small tour level.
Dossin's interest in Equine 74 Gastric was peaked when she read numerous testimonials from top riders on the internet. With one horse sensitive to his stomach in her stable, Dossin decided to give it a try.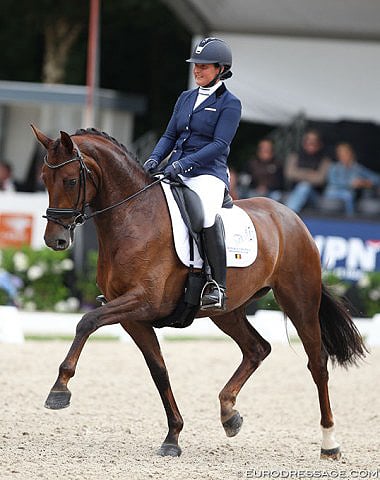 "A lot of riders I knew were using Equine 74 Gastric and they told me they were really happy about the results, so I wanted to try it too," Dossin explained. "I had one horse diagnosed with a small ulcer and irritation to the stomach so I wanted to use it with him first. He was really nervous in the work and had been treated with omeprazole for two weeks and other supplements against ulcers."
However, it wasn't until Julie began giving him Equine 74 Gastric that she saw a drastic improvement in her horse's health and well-being. "I think he is just more quiet since he is on Equine 74 Gastric," Julie admitted. "It's like he is enjoying life more!"
Aware that gastric ulcers are common with sport horses and medication like omeprazole is no long-term solution, Julie found a safe and effective alternative for treating horse with recurring ulcers in Equine 74 Gastric.
"After the successes with our first horse, I realized that I have other really nervous horses so maybe it would be better to give it to them too as a prevention," Julie explained. "My 8-year old mare is very temperamental and spooky and now that she is on Equine 74 Gastric she just feels more supple and comfortable."
Equine 74 Gastric

is a natural feed supplement which buffers acid instead of just blocking it and creates a healthy ph balance in the horse's stomach.
"Last summer I had a foal that was operated on for her leg position and after that she was on rest and medication for a long time. The filly became nervous and her coat was no longer shining, so I also gave her the supplement," Julie stated. "After a few weeks she was herself again: quiet, relaxed and shining. So now all my horses get it and it's giving me a feeling of confidence that I am preventing any possible irritation of the stomach."
Dossin aims to take her 8-year old top horse First Lady (by Sir Donnerhall x Johnson) to international small tour level this year. She also has the very promising 4-year old Jaap BH (by Desperado x Jazz x Ulft) coming along as well as a young palomino dressage pony by Golden State, amongst others. With her horses healthy and happy in their body she hopes to repeat her previous young horse successes in the competition ring.
More on the topic
Prevention is the keyword when it comes to stomach ulcers in horses. Not only are stomach ulcers costly and time-consuming for you, but your horse also suffers from pain when it has stomach ulcers. Here you can learn how to prevent them effectively.