We get emails from horse owners every single day. Many of them are desperate because they have no clue why their horse is suffering: "My mare is grinding her teeth.", "My gelding only needs to see a saddle girth, and starts kicking his stomach" or "My horse doesn't eat well and he's often colicky." It's often the case that the vet eventually finds out that stomach ulcers are causing all the trouble. Apparently, the problem is that the symptoms often aren't interpreted correctly.
Imagine your horse starts grinding his teeth. You are pretty sure he hasn't done it before, but you don't think of stomach ulcers immediately. This new behavior could be caused by something entirely different. You might ask yourself if the training puts too much stress on your horse, or if there is something wrong with his teeth. Or maybe you hope that it's just a phase that will pass, soon.


But then, your horse leaves more food untouched, every day. Of course, the reason for this could also be a high level of tension or dental problems. Or he just doesn't like the feed. Some horses show even more symptoms, and others only show one of the typical warning signs, not all of these being as alarming as frequent colic. So it happens, that many stomach ulcers are recognized when it's far too late. Here is a list of the most important symptoms. If you observe one or several of them (and if they don't disappear in 4 weeks or less), you should talk to a vet.

Equine stomach ulcers – 10 symptoms you need to be aware of:
1. Poor appetite
2. Frequent colic
3. Less performance in daily training and shows
4. Weight loss
5. Drawn-in stomach
6. Grinding of teeth
7. Empty chewing
8. Bad breath
9. Poor condition
10. Lack of focus
Alix Szepesi, an American horse trainer and dressage rider, also had to learn that some horses develop stomach ulcers even with perfectly horse-appropriate keeping. Before she could find out, what was wrong with her horse, she tried a whole bunch of things. Now she prevents ulcers with our natural feeding supplement Equine 74 Gastric. Read on to hear her tell the story of how she fought fiercely for her horses' health.
For American dressage trainer and rider Alix Szepesi feeding Equine 74 Gastric has been an eye-opening experience from which all her horses have reaped the benefits. Szepesi has seen dramatic changes in her horses, not only in their performance level but also in their disposition.


"They are mentally more relaxed and focused. Under saddle they start out more relaxed in the body and more accepting of the leg. Horses that had a tucked up look filled out. Horses that had a bloated look slimmed down and more healthy manure. Horses I thought were just 'crabby' became more affectionate."


Based in Litchfield (CT) and in Wellington (FL) Szepesi is an FEI Dressage trainer who mainly competes at the Global Dressage Festival over the winter and at Saugerties and local shows in New England during the summer. Her top horse Douceur is a 10-year old Oldenburg gelding (by Don Primero x Royal Dance), owned by Michele Sweeny, while her rising stars are Skyline Sport Horses' 7-year U.S. bred Reine des Reves WS (by Starlight x Rosier) and her own 6-year old Oldenburg gelding Sir Sebastian (by Sir Gregory x Rubinstein I).
Good Horsemanship Does Not Rule Out Gastric Ulcers
Szepesi is an avid believer in good horsemanship and likes to keep her horses in the most natural environment possible while combining it with the standards of the high-performance sport.


"We have a small operation at Litchfield Hills Dressage so we can give the horses individualized care and provide a healthy environment. They go out twice a day in large grass fields for total of 6-8 hours per day. They have free choice hay when not out on grass, and multiple feedings per day of an all-natural diet (no processed food or added sugars)," Szepesi explained. "The barn design is very open, with lots of natural light, run outs attached to stalls, no solid walls between stalls so the horses can see each other. The training schedule is riding 4-5 times a week with sessions in the dressage ring, together with hill work and field work so there's a variety. We go to Wellington, FL over the winter and rent a place with ample grass turn out where the horses can have the same care schedule as back home."


Despite Alix' dedicated efforts to give her horses a natural lifestyle in an environment as close to what mother nature intended, one of her horses struggled with gastric ulcers. Finding relief took her on a roller coaster ride in the equine pharmaceutical world that only drained wallets instead of finding solutions.


"We had to treat Sir Sebastian three times for gastric ulcers with Gastrogard and Misoprostol after we imported him," Alix explained. "After the third treatment it was suggested that he live on those meds for the rest of his life! We had a hard time accepting that and knew there had to be a better solution. I always thought that if you had horses in a healthy environment they would not have gastric issues, but now I see that's not always the case. No matter what management program you have, performance horses are put into abnormal situations with shows at different venues and travel to/from the shows or for lessons with your trainer."


Amazed by the Results of Equine 74 Gastric
Alix read Tinne Vilhelmson-Silfven's testimonial on Equine 74 Gastric on Eurodressage.com last year, she decided to give it a try despite reservations.


"I was quite skeptical about Equine 74 Gastric at first, but thought if Tinne Vilhelmson thought it was good enough for her horses we'd give it a go. Seb's symptoms when not being treated with Gastrogard and Misoprostol were a tight body, he was unfocused and spooky, behind the leg, kicking at my leg, lethargic, random fevers, hard to put weight on (tucked up belly), inconsistent manure, and he had minor colics. All of this made it hard to have a consistent training schedule let alone plan any showing which was really frustrating. I've never dealt with a horse with stomach problems before and was at my wits end," Szepesi admitted.


"When I had first enquired about Equine 74 Gastric it was not yet available here in the United States. Coincidentally, about a month after the 3rd treatment of Gastrogard and Misoprostol when Seb was starting to show signs of discomfort again, the product started being sold here in the U.S. by Anita Van Slyke. I got the trial size and after about two weeks I started to notice the signs of discomfort going away. He wasn't so distracted, was much looser in the body and accepting of my leg when riding, lost the tucked up look to his belly, was starting to put some weight on and had consistent manure. It's been a year now since we've been using Equine 74 Gastric and Seb has shown none of the signs of discomfort he consistently had before we started using it. Prevention is way better than having to cure gastric ulcers!"


Szepesi is now a firm believer in the benefits of Equine 74 Gastric.
"It is all natural so it fits in perfectly with our diet. It is one supplement that covers the stomach and hind gut, so you don't need multiple meds. It addresses the whole stomach and provides consistent coverage of gastric care, so you don't need to add Gastrogard before shipping or showing (or other situation that the horses aren't used to). I find it cost effective. There is no adjustment period where the horse has an upset stomach and/or diarrhea, and there are no side effects to worry about."
Prevention Better than Curing
When she saw the positive effects of Equine 74 Gastric on Sir Sebastian, she decided to try it on all the other horses even though none of them were showing signs of gastric discomfort.
"The whole experience with Seb got me wondering if the added gastric care to their diet would help," she stated. "We also know that an effective immune system starts with a healthy stomach, so having seen such great results with Seb, it was an easy decision. The end result was very positive for all of the horses. Reine des Reves WS wasn't showing any signs of gastric discomfort, but she was always very tight in her body, distracted when riding, and just wanted to brace and run against the bit. Plus she had the tucked up look to her stomach that Seb had and was hard to put weight on. I put her on the Equine 74 Gastric and again got positive results. Then we tried it on our semi-retired 23-year old who, aside from the normal stiffness associated with age, has no lameness issues but had been starting off slow and get tight in the body. He had a bloated look to his belly and despite my efforts to keep him in shape with light work, his top line was deteriorating. I attributed that to his age, but after being on the product he lost the big belly bloated look, was much more in front of the leg starting out and I felt like he was back to being more supple in his body and the top-line has improved. At 23, it's not back to what he had in his younger days, but I feel I can maintain a certain level of fitness now that will help him last longer."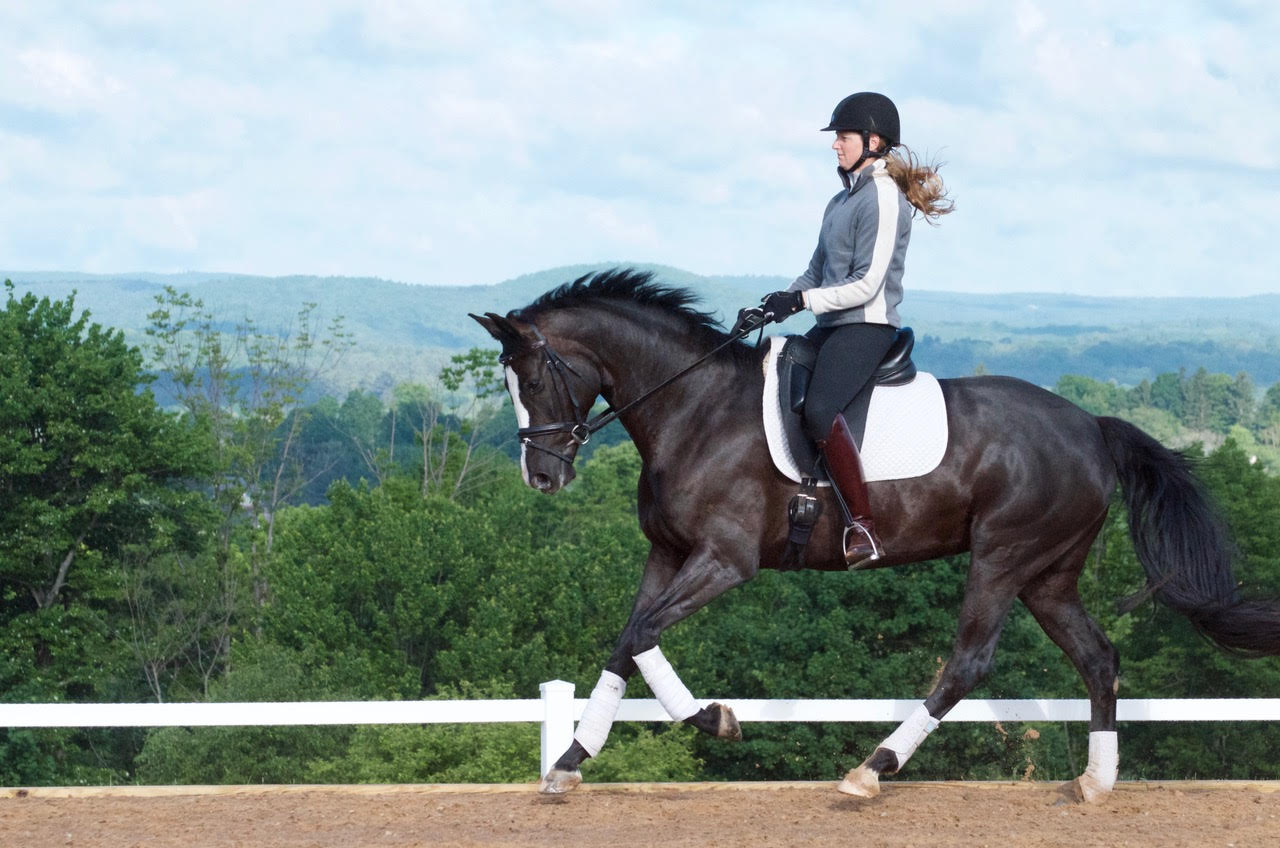 Szepesi now suggests Equine 74 Gastric to all her clients and friends as she has seen the positive difference in nine horses out of nine so far.
"To me it's a no brainer as all horses are happier on it plus it makes my job much easier because the horses that, for no medical/lameness reasons we could find, had issues with being behind the leg, distracted, spooky, or tight in the body all became easier to progress in their training," she said.