Make your horse feel
happy inside!
Natural Acidbuffer, optimized pH-level in horses stomach and gut that helps for better performance and satisfaction without compromise. Because good for your horse should also mean good for you!
New! Equine 74 CALMRELAX: perfect before stressful situations.
Hello, I am Christian Dietz, the founder of Equine 74. Every day we receive emails or calls from customers or interested people who want to find out more about the topic of gastric ulcers in horses and our two products. We have answered the most frequently asked questions in the video opposite. If your answer is not included, simply write us an email or give us a call. We look forward to an exchange with you.
Equine74 Gastric buffers acid in your horse's stomach… instead of just blocking it.
Horses produce gastric acid around the clock. When allowed to graze continually, our horses are able to buffer stomach acid on their own. But traveling, training, lack of turnout, and sporadic feeding schedules have created a lifestyle that's less than ideal for optimal gastric.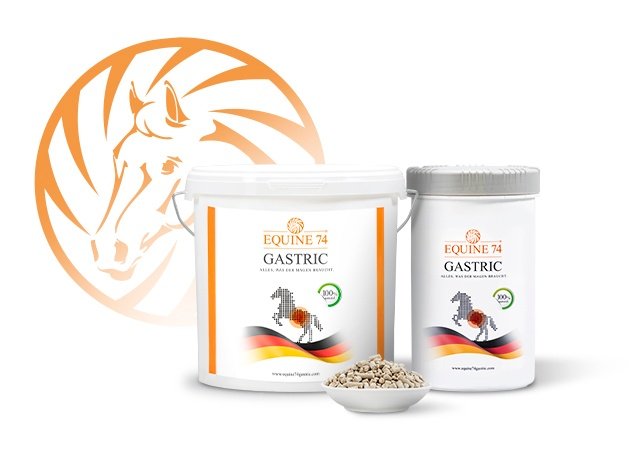 Equine74 Gastric counteracts the effects of constant stress-related acid problems with high mineral acid buffering.
Equine 74 Gastric buffers the excess acid. This allows the pH value in your horse's stomach to remain balanced.
And Equine74 Gastric does all of this naturally. Made of calcareous marine algae harvested from the waters off the coasts of Ireland and Iceland, the certified organic formulation has a high calcium content.


Why do leading international riders, trainers, and breeders rely on Equine74 Gastric?
Natural acid buffer
Formulated from 100% natural ingredients
Drug free - no banned substances
Safe for daily use
Proven effective by scientific research*
30 Day - No risk guarantee**
** 30 Day - No risk guarantee only for first order 2kg
Developed for horse people by horse people
When we started our business in 2011, we were driven by the idea to create an all natural supplement that would buffer the stress-related rise of gastric acid in horses. We've seen firsthand how devastating ulcers can be not only to the long term health of horses but also to the relationships with their people.
That's why we developed Equine74 Gastric to help our equine partners feel more comfortable and perform at their best. So they can be happier and healthier partners no matter the discipline.

Christian and Tanja Dietz, Founders of Equine74 Gastric